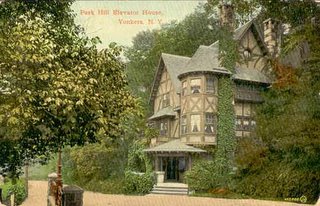 I found a REALLY interesting article about the old funicular that used to run up Park Hill. (we live at the bottom of Park Hill) Not sure what a funicular is? Look it up here!
Our theory about our very large garage is that rich people who lived up Park Hill went to work using the old funicular and then would take the bus/tram/trolley/subway to NYC.
When the funicular closed down, people started driving down the hill. The people who lived at the bottom, realizing that rich people wanted a place to park, started putting up large garages all over the place. All along S. Broadway, there are old brick garage buildings. Our theory is that's how we ended up with such a spacious garage. (Even a couple of blocks off of Broadway)
However, the article states that the funicular didn't close down until 1937. And we theorize that our garage was built in the 1920's. So perhaps the garages were the cause of the death of the funicular, rather than the other way around? Some more research is probably in order!
An interesting fact is that the funicular was designed by Otis Elevator, which was started in Yonkers in 1853 by Elisha Otis. WIKIPEDIA ENTRY