Here, for your viewing (and commenting) pleasure, are three more kitchen layouts. My stepmother Nancy and I burned the midnight oil on Saturday night, working through all of the issues. She was really insightful and I think these designs are much improved over the earlier ones. One major change she suggested was to turn the bathroom vertically (relative to these drawings) – which buys us a lot of space along the main kitchen wall and also brings the (current) bathroom window into the kitchen.
However, two of these designs blocks off that newly recaptured window with the pantry. The walk-in pantry is something that's really important to me, so I keep trying to figure out how to get it in. I think it's worth the tradeoff for a window we never really had in the kitchen anyway.
Our kitchen contractor Joe was out yesterday to have a look, so I hope to see his ideas on Monday. I haven't shown him these designs; maybe he'll have a whole different spin on the space.
We continue to solicit your comments and ideas– they are very useful to us!
Concept 5B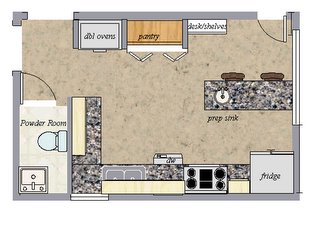 Concept 5C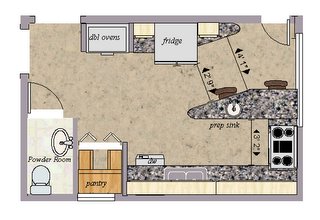 Concept 6