In between picking out cabinets, figuring out the differences between the phone systems of Lowe's and Home Depot (Lowe's is much more efficient) and juggling a very stressful full time job, Stephanie is also very involved in Congregation Tehillah, Riverdale's dynamic synagogue. (And that means by extension, that Adam is involved too) Here's the latest event that we are helping to put together for the synagogue (It's a five year anniversary, and it includes great music, a fundraiser for a worthy cause, and most importantly, dessert!) Adam wrote the press release, and Stephanie designed the postcard/poster.
If you like Klezmer or to support good Jewish organizations, or perhaps if only because you like dessert, you should try to attend. It's going to be a great event.
===========================================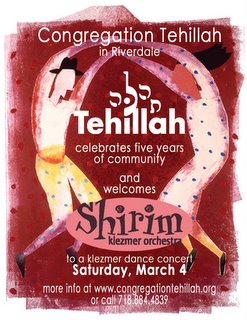 Top Notch Klezmer Plays Minutes from Manhattan
Shirim Klezmer Orchestra to Play in Riverdale NY March 4, 2006.
Riverdale NY 2/7/06
Shirim Klezmer Orchestra, one of the country's top klezmer orchestras, will bring their traditional Jewish jazz sound to Riverdale as part of the anniversary celebration for Congregation Tehillah, a socially conscious synagogue based in Riverdale that was founded five years ago.
Shirim, based in Boston, is considered to be one of the top klezmer orchestras in the country. Their toe-tapping arrangements of classic klezmer tunes and ingenious takes on classical composers such as Tchaikovsky, Mahler, and Satie have been featured in films, on radio, and at colleges, concert halls, and weddings across the country. Billboard magazine awarded them a critic's choice and their album Klezmer Nutcracker has become an annual program on National Public Radio.
Many of the musicians that will play at the Tehillah party are also members of Naftule's Dream, a jazz/klezmer ensemble that has been breaking down the barriers of traditional klezmer music. Combining klezmer with modern classical, freely improvised rock fusion, and fiery improvisation, Naftule's Dream is "without a doubt the most startlingly original, audacious music I've heard," according to Bill Milkowski of Jazz Times.
Shirim will play two dance/music sets between 9 and 11:30 pm. The concert/dance party is open to the public; doors open at 8:30. Other events will include a silent auction and a dessert tasting. Tickets for the party are $18 each (includes dessert) and can be purchased in advance through Congregation Tehillah or at the door. For more information visit http://www.congregationtehillah.org or call (718) 884-4839.
WHAT: Birthday party/fundraiser for Congregation Tehillah, featuring Shirim Klezmer Orchestra
WHEN: Saturday, March 4, 2006 from 8:30-11:30 pm
WHERE: Riverdale Temple, 4545 Independence Avenue, Bronx, NY
COST: $18 (includes dessert)
MORE INFO: http://www.congregationtehillah.org, http://www.shirim.com, or call (718) 884-4839 for tickets.