I can't believe that we can finally see the light at the end of the tunnel. The kitchen is nearly complete!
Aaron and FX (handyman friend-of-Adam's-brother that's been helping) have done an awesome job getting it all together, including putting up the tin ceiling (which looks like it's always been there), the light fixtures, and installing the cabinets. Aaron, in particular, has been amazing with the custom reworking of the cabinets – we bought standard Home Depot stuff, and he's had to rework a bunch of them to fit with our cooktop, our brick wall, and the peninsula. His attention to detail is magnificent; you'd never know they weren't all custom made or delivered just like this. This is why I love Aaron.
Today is actually the first day of the rest of the kitchen: the countertop guys are coming to measure for the template. Last weekend we went to the granite yard to pick out our slab(s) – very difficult to find something we liked that was reasonable, because apparently anything green, which we really wanted, is expensive relative to the browns and yellows and greys. After wandering around the yard in Bridgeport, CT (en route to Providence) we found a really fantastic multi-color piece, called "Gold Butterfly," that has a nice vein of green in it, along with the cream of the walls, the cherry brown o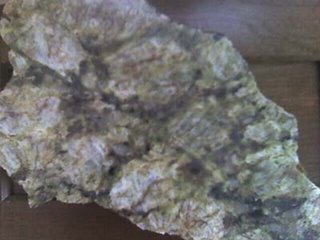 f the cabinets, and the lighter brown of the cork floors. It's not what I originally had in mind – I was thinking of something with less pattern, more consistent – but it's perfect, color-wise, and pretty bold; of course, we know who likes bold in this family!
This picture is not at all a good representation of the countertop, but maybe you can sort of get the idea.
And – certainly through no effort of our own, we have roses in the garden! Suddenly there they are; one of them a bit worse for the wear after a tough storm that trampled it down, but Adam staked it up and it seems to be okay. Now if I just had even the smallest clue about roses (let alone the rest of the garden)….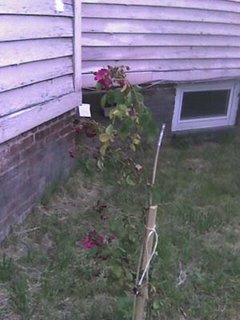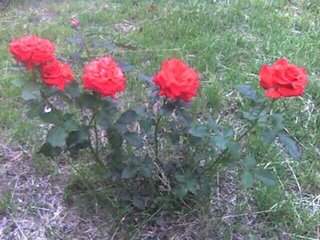 Off to Chicago this evening for family and work stuff, hopefully will return home to an even closer-to-complete kitchen.