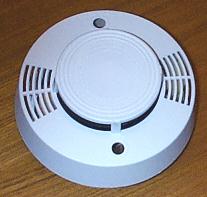 We had a disturbing alarm incident, where it turned out that the low battery signal from our third floor smoke detector may have been a faulty smoke detector, as replacing the batteries did not assuage the situation. We had ADT come out and replace the smoke detector. (Of course, everything worked properly when he was here) The technician, a burly guy with a thick Russian accent, kept on asking "Floor is original, yes? How old is house? What kind wood is that? You have big house." Not sure if he was also studying for his real estate license, or just had an interest in old houses. Anyway, he was a marked improvement from the last security guys that we had here, who accidentally drilled through our thermostat line, requiring our heating installer to come back out and charge us money to replace it. Which leads us to the next little contractor incident: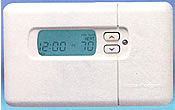 It turns out that Eversafe Security, our alarm installer, which promised me that they would pay our heating installer his charge for fixing the thermostat, has not paid yet, even though it happened 9 months ago. We discovered that little fact the hard way, when our Thermostat didn't seem to be doing what it was supposed to be doing. We called our oil company, who checked everything out and decided the thermostat must be defective. We called K & S (heating installer) to get a new one and they didn't return our calls. The next day I got the unpaid invoice from them from March.
It looks like I need to pay that invoice and then try to collect blood from the stone that is Eversafe. The worst part is I no longer have a stick to beat them with– they sold our maintenance contract to ADT. I guess I am just going to have to call them everyday until they crack.
In the meantime, K & S eventually did come out (I wasn't here, but S says that the guy raved about the house and what we've done, especially with the kitchen.) And to add insult to injury, apparently the guy from our heating company was wrong– the thermostat was not faulty.