The drought is over!
Well, the Diet Barq's drought, anyway.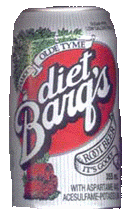 Here in NY, for whatever reason, Diet Barq's (or DB, as we keepers of the diet rootbeer faith will refer to it in our Root Beer Cabal's, held every third Wednesday in the cellar of the High Priest of Rooted Beer) has not been available. I'm not sure why, but the supermarkets didn't carry it, the soda distributors didn't carry it, nobody had it. I could have tried to import it from Rhode Island or parts even further afield, but it didn't seem to make that much sense to do so)
Well, lo and behold, on my most recent trip to Stop and Shop, they had it. And it was on sale! I bought 5 12packs for $10.
Stephanie's dad is a huge DB fan, so I'm sure that he'll be pleased to note that the root beer is flowing at Casa Yonked, but if he wants some he better hurry– I only have 60 cans, and who knows when the next shipment will come in!