The last few days have been a study in contrasts and similarities. As Adam blogged earlier, on Thursday I was honored at Tehillah. It was a wonderful experience, though somewhat bittersweet, because I'll be stepping down from the synagogue board (and the Vice Presidency) within the next few weeks. But learning a bit of Torah for this honor (interpretation, reading, chanting) was really the first serious studying I've done since I found my congregation, and realistically, I know that all of the work I was putting in on the operations side of the shul was keeping me from learning and growing, spiritually. So as the Rabbi put it, I hope that I can now move from tachlis (the practical, "brass tacks") to spiritual and put in/get out something entirely different from my Tehillah experience.
The Simchat Torah service was joyous and so meaningful to me, and made even more so by the presence of Adam's mom, Karel, who came down from Providence, as well as the participation of our dearest friends in the service itself. After the terrifying part was done (the Torah reading and sermon – which I got through just barely, choking up only at the very end), we danced like crazy – with each other, with the Torahs, with me high up on a chair with the Torah (I was much more worried about me dropping the Torah than them dropping me!). I'm still on a bit of a high from the whole thing.
So today we experienced an entirely different spiritually joyous event – the wedding of our neighbors, Jose and Maria Theresa. They are a wonderful couple from El Salvador, and we've socialized with them a bit, though we have a pretty serious language barrier, moreso with Jose than Maria. So when we got the invitation (entirely in Spanish) to come to the church (all in Spanish) and the reception (all Spanish too) we were a bit trepidacious. Add to that that Jose and Maria had told us that they are "Charismatic Catholics" – and we really didn't know what to expect.
So we showed up at St. Peter's church (three blocks from our house), and right off the bat we were out of place. Adam was wearing a suit and tie and I was wearing a dressy lace blouse and silk skirt. We were the most dressed up next to the bride and groom! The service started and even if we hadn't caught all the "Christos" and "Sanctos" we would have known from the crossing and kneeling and swaying that this was a deeply faithful community. It was actually quite lovely and moving. Then, during the reception (in the church basement), the Spanish gospel singer came out and had the entire room on their feet, clapping and waving and shouting in song.
And then it hit me – this is what Tehillah looked like to me, just about, when I first got there six years ago. Sure, the Hebrew was more familiar than Spanish, but only barely. And yes, I knew the general idea of what a synagogue service was about, but I've also been to Catholic weddings and funerals and seen communion before. And all those people dancing and singing at the tops of their lungs, joyously praying together – could be St. Peter's, or Tehillah. In both cases, the purest expression of community, faith and belonging.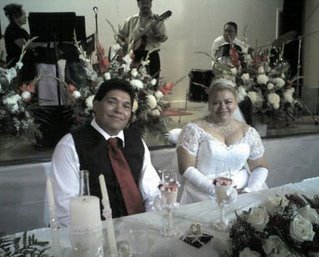 As I said in my sermon on Thursday, I'm still very uncertain about my feelings about God. But I'm quite certain about my feelings about being a part of a Jewish community. And it's beautiful, and strengthening to me, to see how meaningful spiritual communities are to others as well.