Please excuse this bit of shameless self-promotion, but Yonkers clown and performer Adam Gertsacov (Hey,that's me!) is directing a play at Fairfield University.
Here's the press release, along with some information about the show. Of particular interest is that opening night will feature a talkback with Adam and the translator, Ron Jenkins. Ron is a professor of theatre at Wesleyan University, and has been Dario Fo's onstage English translator for over 15 years. They are both graduates of Ringling Clown College. Ron is the author of one of the best books about contemporary clowns Acrobats of the Soul (available via Amazon.com)
He is also one of the top Dario Fo scholars in the world.
Hope you can attend!
Clown Laureate Directs Nobel Laureate's Work in Connecticut
Adam Gertsacov, Clown Laureate of Greenbelt, Maryland, will direct Nobel Laureate Dario Fo's We Won't Pay! We Won't Pay! The show will perform at the Quick Center for the Arts on the campus of Fairfield University in Fairfield CT from October 31-November 4. The show will feature Fairfield University students. Gertsacov has been in residence at the University as a guest artist. The opening night performance will be followed by a talkback with director Gertsacov and translator Ron Jenkins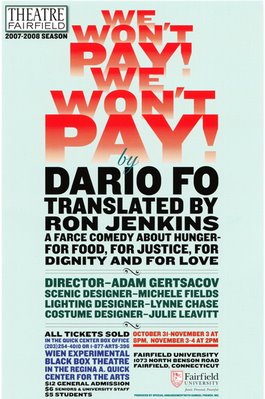 Fairfield, CT, October 22, 2007 –(
PR.com
)–
We Won't Pay! We Won't Pay!
is a social farce with a message. In the play, high prices have caused a revolution in the supermarket, with housewives stealing food from the market. When they get home, they realize they can't tell their husbands where they got the food, and pretend to be pregnant. From this one simple lie, a farce develops so that by the end of the play nearly everybody in the cast (including the policeman, who looks suspiciously like a number of other characters in the play) has become pregnant.
Written in Italy in the early 1970's, the play has sparked social actions. Soon after the play was first performed, a similar supermarket riot took place in Italy. The play was later performed on the site of a Fiat plant strike, and has become a much loved play among workers and political leftists. Since 1974, the play has been translated into over a dozen languages, and performed in more than 30 countries around the world. It is considered by many theatrical critics to be one of the great comedies of the twentieth century.
The author, Dario Fo, is an Italian satirist, playwright, actor, director, composer, and clown. In 1997 he was awarded the Nobel Prize for Literature. In 2006 he ran an unsuccessful race for mayor of Milan, and lost by a very tiny margin. He is the author of more than 20 plays, and currently runs a theatre company in Italy with his wife, celebrated Italian actress Franca Rame.
The director, Adam Gertsacov, is a clown and performer based in Yonkers, New York. Adam is the current Clown Laureate of Greenbelt, Maryland. He has performed his original shows in over 39 states and 7 countries, as well as on Czech, Canadian, and American television and radio. Gertsacov is the artistic director and boss clown of the Acme Clown Company. In addition to his work as a performer, Gertsacov is the director and curator of Bright Night Providence, a New Year's Eve Celebration in Providence, RI.
The show is at Fairfield University, Fairfield CT (exit 22 off of 95) at the Quick Center for the Arts
Schedule:
Wednesday October 31 @ 8 pm (talkback afterwards with Ron Jenkins, translator & director Adam Gertsacov)
Thursday November 1 @ 8 pm (talkback afterwards with director Adam Gertsacov & Fairfield University professors)
Friday November 2 @ 8 pm
Saturday November 3 @ 2 & 8 pm
Sunday November 4 @ 2 pm.
Tickets are $12 ($5 for students of any high school or college)
Call 1-877-ARTS-396 or (203) 254-4010 to purchase tickets or for additional information.
You may also visit http://fairfield.edu/x1534.html for more information.
###