Well, the wedding was fantastic, surprisingly a lot of fun, and as everybody predicted (but I didn't believe) it was over WAY too fast. Still, even though I had a lot of fun, I don't think I'll be doing it again. Once is enough for me! :o)
Amazingly, the NYT came and covered the wedding, and produced a little video and everything! We were picked as the VOWS column– they only do one a week, and we were it. Pretty exciting– thank God Madonna didn't get married this week– we would have been bumped for sure!
You can view it here: http://www.nytimes.com/2008/04/13/fashion/weddings/13vows.html
There's about a 4 minute video as well that's pretty great…
And not only were we featured in the NY Times, but the Riverdale Press also picked up our wedding announcement! That's the local Riverdale paper.
You can see that one here:
http://www.riverdalepress.com/full.php?sid=3979&current_edition=2008-04-10
Not sure how long that will be around for– I think at a certain point they take them off the internet….
So grab them while you can!
NY TIMES
Stephanie Schwab and Adam Gertsacov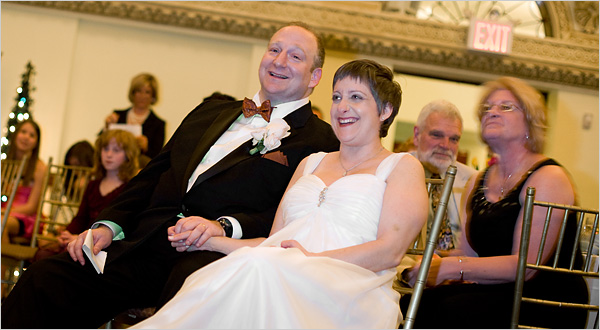 Annie Tritt for The New York Times
How does a brainy vice president of a marketing agency in Manhattan end up marrying a graduate of the Ringling Brothers and Barnum & Bailey Clown College? Blame the Internet.')By DOUGLAS MARTIN

MIDGE and Madge were not invited to the wedding in Yonkers on April 5. Stephanie Schwab, the bride, claimed to be jealous of those extraordinarily petite showgirls who had traveled the globe with her betrothed.
"He coos at them, and speaks to them in very, very soft tones," she said.
So Adam Gertsacov, 43, agreed to leave his famous fleas at home, along with his velvet top hat and red-white-and-green shoes. His clown nose was allowed only for prewedding photos, but Ms. Schwab joyfully wore one, too. They succeeded admirably in maneuvering into an ardent kiss beneath the bright red snouts.
Marrying a clown is no run-of-the-mill thing. Mr. Gertsacov is the owner of the Acme Miniature Flea Circus. His stars, Midge and Madge, each dwarfed by the period at the end of this sentence, are said to perform feats like pulling chariots or walking a high wire.
Audiences pretty much have to take Mr. Gertsacov's word for all this. He uses a magnifying glass to provide the play-by-play, and only the props are visible. So how did Ms. Schwab, 40, a brainy vice president of Converseon, a marketing agency in Manhattan, someone who holds an M.B.A. from the University of Illinois, end up marrying a graduate of the Ringling Brothers and Barnum & Bailey Clown College who sometimes performs as a giant bumblebee?
Blame the Internet. In 2004, each was prowling a dating site. Mr. Gertsacov, of Rhode Island, traveled continuously and was open to meeting somebody nice from anywhere. Ms. Schwab, of New York, emphatically did not want another long-distance relationship.
And then there were the photos Mr. Gertsacov displayed of himself. One was a graphic blowup of an eye. She wondered if the possible artiness outweighed the obvious goofiness.
She consented to a phone call, and soon they were having "these wonderful conversations late into the night." Over coffee in New York they "instantly connected," she said. Soon, he was in New York almost every weekend.
He handled the inevitable career questions gradually. He first said he was a performing artist; then a creator of original comic shows; and, finally, someone who presented "popular theatrical traditions." Only when she seemed "firmly on the hook," he said, did he disclose the flea-bitten fabric of those heralded traditions.
She liked his intelligence and creativity, and his apparent ability to profit from his passions. "He wasn't a lawyer, he wasn't a consultant; it was refreshing," she said.
Vaudeville, she thought, was exactly the kind of thing her parents would get a kick out of. And at the wedding, her father, Steven Schwab of Chicago, an owner of a business there that makes baking products for children, exuded, "There will be humor in their life forever."
Mr. Gertsacov said: "I think she may have presented herself as more bohemian than she actually is. Which is O.K. I'm bohemian enough for both of us."
Ms. Schwab, who had two previous marriages, once used $120,000 of her own money to start a company called Erotigo, to bring pornography to hand-held computers. It was featured in BusinessWeek, but after Sept. 11 she failed to attract the investors she needed. "It was a wild ride, really fun," she said.
Mr. Gertsacov, who graduated from the University of Pennsylvania and earned a master's in theater and communications from Rhode Island College, claims he is the most educated clown in America — "barring certain elected officials."
They bought a house in Yonkers two and a half years ago, became active in a synagogue and began to talk around the topic of marriage. Talk became plans five months ago, when Ms. Schwab became pregnant. Mr. Gertsacov's mother, Karel, was unconscious and near death last December when he told her that he was engaged. "Her eyes fluttered," he said, adding that her death soon afterward contributed to him wanting a sense of familial continuity.
The magic came together at the Roosevelt Ballroom in Yonkers, a classically inspired hall visited by both Presidents Roosevelt. The wedding invitation — in orange, a color with which Mr. Gertsacov is obsessed — announced the occasion as "A colossal combination that is sure to amaze & delight for generations to come."
The bride was radiant in a gown that had been twice altered to meet the exigencies of pregnancy. The bridegroom only once upstaged their rabbi, Jason Nevarez. Mr. Gertsacov could not help himself from doing an elaborate pantomime with his prayer shawl. Wedding rings were extracted from a Cracker Jack box.
At the reception guests shared their talents, from juggling to rope tricks to what seemed deliberately lame humor. There was a life-size dog puppet who scratched the audience's fancy with bon mots about fleas.
Then, as a klezmer combo shifted into high, the couple glided across the shimmering dance floor. A singer crooned the lovely, inevitable lyrics of Cole Porter:
"Birds do it, bees do it,
Even educated fleas do it.
Let's do it, let's fall in love."
——–
RIVERDALE PRESS
Gertsacov and Schwab tie the knot in Yonkers
Stephanie Schwab and Adam Gertsacov, both formerly of Riverdale, were married on Saturday at the Roosevelt Ballroom in Yonkers. Rabbi Jason Nevarez officiated with Willard Knox, of Congregation Tehillah, taking part in the ceremony.
The couple met online on the Jewish dating site JDate in 2004 and became engaged in January.
The bridge, 40, is keeping her name. She is vice president of Converseon, a marketing agency in Manhattan, specializing in Internet marketing and social media. She graduated from the University of Washington and received her MBA from the University of Illinois at Chicago.
Ms. Schwab is the daughter of Steven Schwab of Chicago and Eva Shore of West Palm Beach, Fla. Her father is the president of Sassafras Enterprises in Chicago, a children's products company. Her mother is a substitute teacher in West Palm Beach. The bride is a stepdaughter of Nancy Schwab.
The groom, 43, is an actor, producer and professional clown. He writes and performs one-man shows and is best known as the impresario of the Acme Miniature Circus, an authentic Victorian flea circus. Mr. Gertsacov holds the honorary position of Clown Laureate of Greenbelt, Md. and is also the director of Bright Night Providence, the New Years' Eve Festival of Providence, R.I.
Mr. Gertsacov graduated from the University of Pennsylvania and received his master's degree in theater and communications from Rhode Island College and the Trinity Rep Conservatory in Providence. Mr. Gertsacov is also a graduate of Ringling Brothers Barnum & Bailey Clown College, the Dell'Arte School of Physical Theatre, and has apprenticed and studied with a number of theatrical luminaries, including Dario Fo, Ctibor Turba and master clown Bill Irwin.
Mr. Gertsacov is the eldest son of the late Alan and Karel Gertsacov of Narragansett, R.I. Ms. Gertsacov was a retired art school teacher and founder of the Arts In Academics Fund at the Rhode Island Foundation, a fund dedicated to combining arts and academics within the public school curriculum. Mr. Gertsacov was owner of Cove Metal Company, a textile machinery company.
The couple will live in their home in Yonkers after a brief honeymoon in Paris, France.