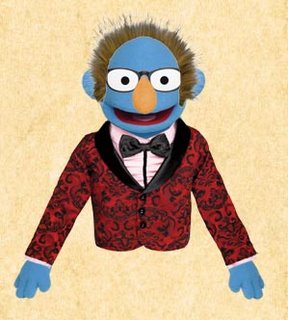 We're so far behind on blogging I don't know if we can catch up. Aaron will turn two months this Sunday and he's gotten so big; he's very active and alert and a fabulous traveler (we just got back from 8 days in Chicago, and have also traveled overnight to Rhinebeck and Providence). I will post more about our boy soon, promise.
For now, just wanted to point out an amazing resemblance between Adam and a muppet, courtesy of the cool new Muppet Workshop.
BTW, Aaron looks like a tiny infant version of this. No bowtie yet, though.