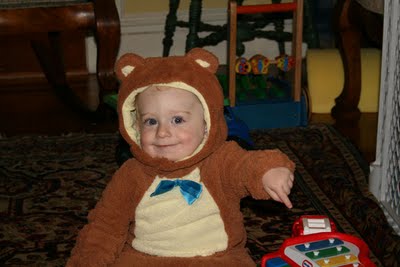 We've picked out AA's Halloween costume for this year, and well, what else could he be but a bear?
We originally had a dog costume that S had given to one of AA's cousins, and now no longer fits, but it mysteriously disappeared. Can't find it anywhere. Being as it was a dog, we can only hope it has found greener pastures.
We went on a shopping spree to make sure that we'd have this costume in time, and found the perfect costume (although S does not like the bowtie particularly. I'm kind of a big fan of the bowtie- it's not a run of the mill bear- this is a CLASSY bear)
The costume also came with a rainbow blanket (is it possible that this is a CareBear ™ costume?) At any rate, the blanket has been banished from the costume.
S has to cut off the bear's feet (the costume, not the child) so that he can wear his shoes and walk around as a bear.
We have to hope that Halloween is not bear season!
A full set of these photos is available over on Flickr: