Since S is out in Utah speaking at the EVO conference, it's up to me to blog our CSA Haul for this week.
I thought I'd give you a little visual of the CSA grabbing itself. Stephanie rarely goes, so it's up to me to actually grab the food every week.
When you arrive, you need to sign in to make sure you are on the list.  It's pretty lax, but pretty much everybody knows everybody else.
Greg, the volunteer manager is usually on site.  Each CSA member has to volunteer twice at the pickup in order to fulfill their CSA Bargain.  I volunteered once already, and will do so again in September.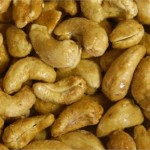 During the week Greg works as a sales rep for a nut company (TierraFarm) that used to be a regular farm that needed something to do in the winter, so took to roasting nuts, and now that has become their forte.  Greg is at a lot of Farmer's Markets during the week and weekend for them.
Greg brought in some samples today– and the Ginger Agave Cashews rocked my world.  Delicious!
So here's the list of what we received today.
For those of you who prefer text, here it is in text:
1 bunch of Red Beets
1 bunch of japanese Turnips
1 bunch of Siberian Kale
1 bunch of rainbow chard
1/2 lb of sweet snap peas
1 head of broccoli
1 bunch of garlic Scapes
1 head of Lettuce (swapped for extra Chard)
1 bunch of parsley (swapped for extra Kale)
Sadly, there was no fruit today (I always feel disappointed when there's no fruit)
Each of the vegetables are in large bins that come from the farm just like that.  You take your share from each of the bins, put it into your bag, chit chat with the volunteers (today our rabbi and her husband were the volunteers when I was there) and then you are on your way.  Here are some photos I took of the bins and their contents.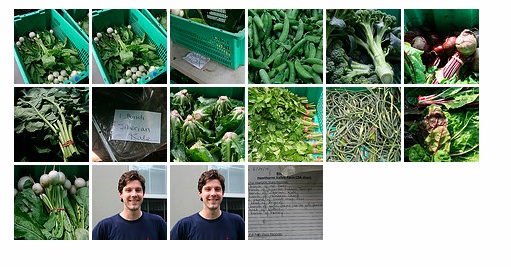 Today I changed the prep routine somewhat.  We had so many large greens, we don't really have room in our fridge for all . I cut off the turnip tops and steamed the greens immediately.  I also steamed the kale immediately, and ate half for dinner.  I gave the beets (disgusting disgusting things!) to our nanny, so that she can juice them.  We still have lots and lots of chard (we still have last week's chard), but I think if I steam that tomorrow, and just eat lots of leafy greens, we should be good.  Today's kale I had with a balsamic truffle vinaigrette, which was pretty darned good.
Okay, that should do it for this edition of the CSA Ha-Â  Oh, yes, the video walk through!
Here's a video walkthrough of the CSA, with hilarious vegetable music by Al Simmons .