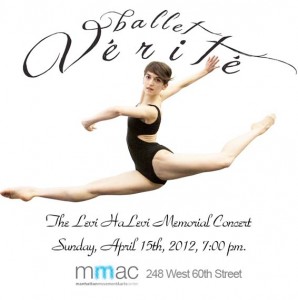 My brother Seth and his wife Sara have a ballet company,  Ballet Vérité .
I've written about Ballet Verite projects before.
They are putting together an exciting evening of dance as a way to commemorate  Levi HaLevi, Sara's dad, who recently passed away.
Levi was a great guy and was supportive of both Seth and Sara in their pursuit of art.
The evening will be held at MMAC, the Manhattan Movement & Arts Center (248 West 60th Street)Â  on Sunday, April 15th, 7 p.m.
The show features original choreography by Seth Gertsacov and stars a number of truly wonderful and accomplished dancers, including Amar Ramasar, Principal, New York City Ballet; Anna Liceica, former Soloist, American Ballet Theatre ; Leyland Simmons, Principal, Ballet Noir; Katie Moorhead, Principal, American Repertory Ballet; Giorgia Bovo, Soloist, Rebecca Kelly Ballet; DeVon Doane, Dance Theatre of Harlem; Gary Jeter, Complexions; Emily Wagner, Armitage Gone! Dance; and Michaela DePrince, star of the upcoming film,"First Position," with live music by Remy de Laroque.
Tickets are $50 for general admission.  $20 student/dancer tickets will be available at the door.  A reception will follow.
For tickets, go to http://www.balletverite.com
And here's the trailer of the film First Position.  Looks great! More information about the movie itself at