Groupon is having a great deal on a Yonkers Musical Theatre Summer Camp!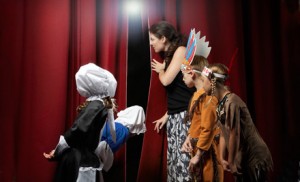 The Rising Stars Performing Arts Company (headed by Laura Rizzo) has a groupon currently running through Sunday. Â You can send your kid to a day camp in Yonkers for less than half of what it normally costs!
 Click here to get the groupon!
Choose from Three Options
$400 for a three-week summer musical-theater camp that runs from Monday, July 1 to Friday, July 19 (an $850 value)
$400 for a three-week summer musical-theater camp that runs from Monday, July 22 to Friday, August 9 (an $850 value)
$749 for both of the above sessions (a $1,700 value)

Each day of camp consists of lessons in dance, drama, and voice, followed by rehearsal for the session-culminating musical, during which students perform backed by a professional orchestra and the camp's lighting, sound, and costume departments. Open to kids aged 6–18, the camps run from 9 a.m. to 3:30 p.m. on weekdays, with optional extended care available until 5:30 p.m. for an extra fee.
Performances are scheduled for Sat July 20th & Sunday July 21st. (1st session) and Sat August 10th & Sunday August 11th (second session)
Tickets are $12 for students and $17 for adults.
Here's a typical camp schedule:
Daily Schedule:
9am-10am Dance Class
10am-11am Drama Class
11am-12pm Voice Class12:30-1:00pm Lunch(provided by camper)
1:00-3:30pm Rehearsal for show
3:30pm Pick Up Time
Extended Care is available from 3:30-5:30pm for an additional $10.00 per hour.
About the Rising Stars Performing Arts Company

When Laura Rizzo is in a room, kids usually burst out in song. As the founder of Rising Stars Performing Arts Company she has directed more than 150 kids shows nationwide and earned awards and accolades for her directing, teaching, and choreography. With a degree in drama and dance education from NYU and experience in on- and off-Broadway productions, she helps aspiring performers on their paths to the musical theater big leagues by teaching them foundational acting skills and boosting their self-confidence through rewarding performances. To achieve this, she and her team offer summer camps and classes on musical theater, dance, and acting, as well as youth productions of classic musicals, such as Annie Get Your Gun, Guys and Dolls, 13, andSweet Charity.